Aries Weekly Horoscope for September 24, 2023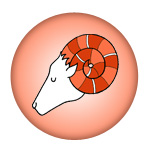 Think about what you're going to say, then place the call. Taking the first few days of the week step by step is the best way to survive the frantic, albeit fun, times. On Tuesday and Wednesday, if you find yourself flirting with someone, make yourself clear. This is also crucial on Thursday or Friday, but the people you're dealing with will most likely be family members, and the tenor of the conversation could be difficult and emotionally charged. A different kind of charge (a blast of energy) lifts your weekend to great heights.
RomanticScope
Wondering whether you should push your luck? Don't wonder, at least not on Monday. Now is the perfect time to take chances in romance (although you might find that you're better off moving on the slow side). On Tuesday and Wednesday, others look to you to take the lead in situations. This is a good time to make big plans and discover that you have more in common with a certain someone than you ever imagined. As the week winds down, be on the lookout for frustration. There's no need to get discouraged, but keep your expectations low. This weekend, be the one to make the first move.
BusinessScope
Whether you're collaborating on a presentation or contributing to a group proposal, Monday is an excellent day for you and your colleagues. Symbiosis works for everyone. It's a definite win/win. Slow your pace on Tuesday and Wednesday, and approach new projects with caution; your best role now may be a supporting one. The end of the workweek, however, finds you fully back up to speed and even out in front of the crowd. It's this kind of boldness that gets you noticed. If you're working with numbers this weekend, look closely for hidden factors.
TravelScopes
The stars say you should do as little as possible at the beginning of the week -- but that's pretty much impossible on the road. Proceed with caution, and direct your energy toward helping others when you can. Sometime Wednesday, you get back in sync with what's going on around you, and through Friday, all sorts of things associated with travel are favored: action, adventure, culture, meeting people. Bon voyage, indeed! This weekend, an obstacle or two are no match for your combination of forcefulness, agreeability and charm.
Flirt
You will want to totally surround yourself with your people on Monday, and most likely they'll want to hang with you too. It might get frustrating this week when you have to deal with one or two hotties who can't get their facts straight, but you'll manage. You'll be first on the scene on Thursday or Friday when something big goes down, and you'll have great stories for a long time to come. Try to be patient over the weekend as little roadblocks pop up between you and something you want.