Sagittarius Weekly Horoscope for September 24, 2023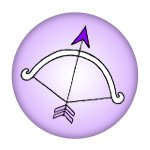 Some people like to sit on the porch and talk about their dreams. You'd rather march into the world and realize yours. But there are a lot of porch-sitters in your life, so for the first half of the week, keep your head down and ignore them. In the second half of the week, you're more open to other people, but you'd still be wise to follow your mood, and if that means building a fort with couch cushions, crawling in with a book, and shutting out the rest of the world, so be it. Something takes you beyond your sofa this weekend (a trip?) and the journey does you tons of good.
RomanticScope
Cut to the chase as the week begins! You need to be forthright and direct (and maybe even a little businesslike) on Monday to get what you want. That ability to communicate should follow you well into midweek, and others (especially significant others) may hang on your every word. Enjoy the conversation, and try to see things from their perspective too. On Thursday and Friday, don't be surprised if you're slow to get started. You might seem a little spacey right now, but that doesn't mean your mind isn't hard at work. This weekend, don't be afraid to get a little goofy.
BusinessScope
If there are new clients to impress or networking opportunities to be mined on Monday, you're exactly the right fit for the job. On the other hand, on Tuesday and Wednesday, you'll want to set up extra reminders for meetings or appointments, back up your files, and generally preempt minor disasters. Then the work week ends on a high note, full of high energy and achievement. Work is like playtime when you're having this much fun! A detail might need your attention this weekend, so be prepared to check in.
TravelScopes
If things aren't going quite your way on the road at the week's outset, a polite request and a smile can be just what's needed to turn a minor difficulty around (or at least get an upgrade when things get going again). From Wednesday through Friday, the stars favor action: If you can, get outside and get physical. Even a business trip benefits hugely from a swim in the hotel pool, as moving your body allows your mind to find an idea that's been elusive. This weekend, you're likely to be on the giving or receiving end of an act of good Samaritanism -- or possibly both.
Flirt
You'll blow away anyone you meet Monday with your freestyling and creative energy, so get out there and dog around a little. Midweek, you could lose something you were sure you had a tight grip on, but it won't take you long to figure out what happened. It's nothing you can't replace anyway. Look for a neon-bright love connection to come your way toward the end of the week or a fireworks show between you and the lucky human who calls you sweetie if you're already hooked up. Keep it down low over the weekend.