Taurus Weekly Horoscope for September 24, 2023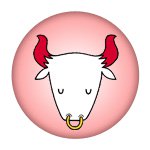 Monday through Wednesday are not great days to make major decisions about the future of your cash. In the present, cash could be uncharacteristically flying out of your pockets. More than anything, you're spending money on entertaining ways to waste time. This is all well and good, but Thursday and Friday strike a deeper note. Your close friends are in the picture, and it's been a while since you've caught up. Hanging out with someone and talking for hours is the best use of your Friday night. On Saturday and Sunday, romance and art are prominent themes.
RomanticScope
Every week should begin this way! Expect a lot out of Monday as you find yourself unusually grounded and on the brink of some serious enlightenment. Toward the middle of the week, you need all the grounding you can get as others try to get a rise out of you. Ignore their weirdness, though. You've got promise and potential coming your way as the week ends. Thursday and Friday are both good days for reaching an understanding with your love interest. This weekend, take your time. As you well know, you can't rush romance.
BusinessScope
You could be put in the role of defending the status quo on Monday, but do sift through any radical plans for key concepts that you can actually implement. On Tuesday and Wednesday, you and your coworkers are much more on the same page, enabling some real progress as a group. Making long-term projections is a good part of your overall strategy now. Toward the workweek's end, seeking out more options or sources is much better than settling for anything suboptimal. Resist pressure to be hasty. Put work on hold this weekend if possible. Romance is in the stars!
TravelScopes
Traveling solo may not suit you at the week's outset, so if you don't have a companion, make a new friend or two. Touching base with home via email or phone (a phone card's a good option) isn't a bad idea either. The pace is fast from Wednesday through Friday; get plenty of rest, eat well and stay hydrated in order to get the very most from your trip. The weekend's full of good -- and intense -- energy for you. Rarely have you enjoyed yourself so much, or looked so good doing it. Could a little romance be part of your travels?
Flirt
Someone teases you on Monday and won't let up until you snap. If you see it coming, run for cover unless you've got some steam to blow off. You need to make time for your friends this week, and lots of it. They will need you just as much as you need them, and together you're unstoppable. On Thursday and Friday, you'll feel rushed by someone with a different agenda, but you don't have to stick with their timetable. The weekend is great for dates and just plain chilling. You can get along with anyone.