Leo Daily Horoscope for September 28, 2023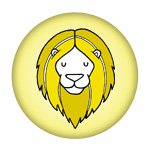 You run into an old friend or acquaintance who's got more to say than you expected, and you're more intrigued than ever! It's a really good time for you to open up to new viewpoints.A fresh energy surrounds you today and helps you feel more centered than you've felt in a long while. You've been asked to take sides by both sides! And a lesser human would consider it an impossible position to be in, but not you. Today, you could see how to navigate your way through this sticky situation without offending or annoying anyone. You'll find a common thread. Hold on to it for all you're worth.
Finance
Lecturing someone is not likely to motivate them. Face it: It's more for your satisfaction than their own good. To really get them to tap their source of enthusiasm, remind them of their hopes and desires. Money is always a big one, so start there.
Single's Lovescope
A courageous act could be what sets you apart from the pack. Swallow your pride and be brave in standing up for what you think. There's no need to hide behind your insecurities. You can do it!
Couple's Lovescope
Don't assume your partner knows what you're thinking. They're good at sensing what you're feeling, but they can't read your mind! Make it easy on them and say what you need.
Career
Being intuitive is never the wrong way to go, because the real issues are always beneath the surface. But the outer details also matter, and that's where you come in. Get to work.
More info :