Pisces Weekly Horoscope for September 24, 2023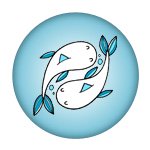 You aren't charging out of the gate on Monday. As a matter of fact, you might not even leave the house. The start of the week through Wednesday, you're busy but not particularly ambitious socially. A sense of uncertainty weighs heavily on you, at least until Thursday, when an unexpected romantic development puts a smile on your face. Expect the grin to last through Friday. On Saturday and Sunday, you are inspired to go on a new health kick. In addition to ensuring you look good, this will help you feel good too.
RomanticScope
Do you want to take the lead, or would you be more happy following? You need to make up your mind on Monday, but, fortunately, your instincts are there to guide you. Toward the middle of the week, you might find yourself daydreaming about the future (with a certain someone, perhaps). Go ahead and indulge any pie-in-the-sky notions you have. Now is the right time to noodle around (mentally and emotionally) and be open to change. As the week winds down, don't be afraid to indulge yourself, and the more lavishly the better. This weekend, your romantic outlook might seem hazy, but a little cleverness should unravel any riddles.
BusinessScope
If finding focus is problematic on Monday, partner with a coworker to set priorities and divide up key tasks. You can return their assistance with interest on Tuesday and Wednesday, when your stamina is high and you're raring to go. Get your latest idea off the ground by getting it in front of the right person. It could be a real resume builder. Some ambiguous information comes your way at the end of the workweek, and it's useless unless you unravel it. Cut through the fog and cut to the chase. And this weekend, the stars say to take some time off for romance!
TravelScopes
If you made some sacrifices to take this trip, the beginning of this week should show you that it's very much worth it. Your new surroundings give you the gift of a feeling of fresh possibilities now. By Wednesday, you'll be ready to jump right in, whether you're taking a guided tour or wandering aimlessly, map in hand. You'll also meet any minor mishaps with a can-do positive attitude -- just the thing for happy traveling. This weekend, a little extra time spent planning each morning makes for smooth-sailing days. Don't forget to schedule time in your itinerary to relax!
Flirt
You'll be the sage of your gang early this week. You have all the answers even to questions that they haven't thought to ask yet. You'll really come into your power on Tuesday and Wednesday, finding that you can draw on a bottomless well of wisdom when your people need it most. You might get seriously confused later on when you start to get weird readings off your sweetie or favorite crush, but you'll be able to get it all sorted out in your own way over the weekend. Try writing it down or turning it into art.